When you think about losing fat, most of us are thinking about subcutaneous fat: the type of fat that is under the skin and the first thing you'll lose when you eat fewer calories than you burn. What we're less familiar with is abdominal fat, also called visceral fat, the "harmful" type of fat. This fat wraps around your internal organs, significantly increasing your risk of certain diseases. When you're looking to lose fat, it's important to focus on abdominal fat as well, and an easy way to do this is by drinking protein smoothies.
Adding protein to your diet has been shown to reduce levels of abdominal fat, subsequently lowering your risk of diseases related to abdominal fat such as cardiovascular disease and type 2 diabetes.
"Increasing protein intake results in increased satiety and a decrease in the release of ghrelin, our primary hunger hormone. When we increase our protein intake we often inadvertently decrease our intake of simple carbohydrates and sugars, which contribute to weight gain and the development of chronic conditions such as diabetes and heart disease," explains Dr. Kelcie Rosendahl, a Naturopathic Physician on Arrae's Medical Advisory Board.
Not only do high protein diets decrease abdominal fat and overall weight, but they can also benefit cholesterol levels, according to a Nutrition, Metabolism & Cardiovascular Diseases study.
There are many ways you can add protein to your smoothies, including powders, yogurt, tofu, nut butters, seeds, or soy milk. Read on for some creative ways to add these protein sources to your smoothies to burn abdominal fat, and for more on how to eat healthy, don't miss Eating Habits to Lose Abdominal Fat As You Age, Say Dietitians.
Raspberry-Peach Swirled Smoothie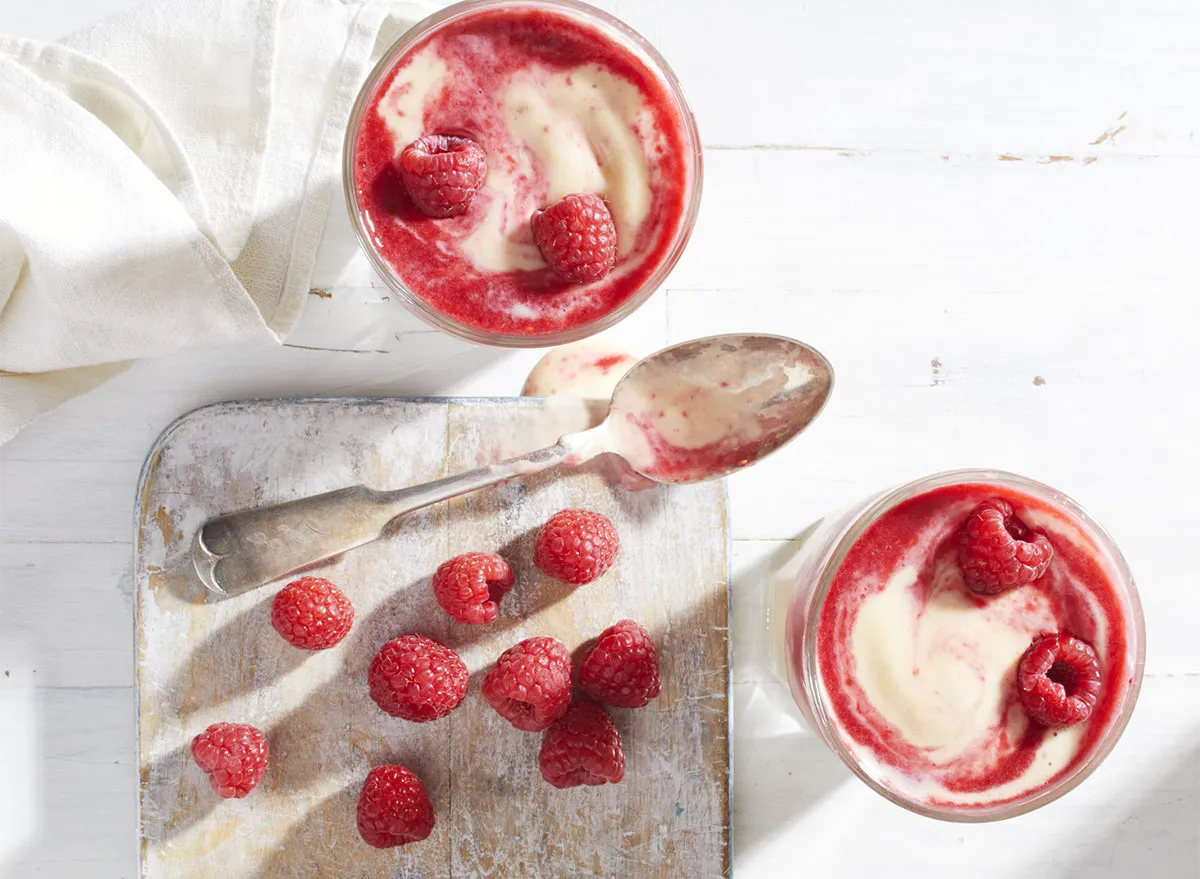 For a supercharged smoothie to blast abdominal fat, look no further than this breakfast beverage that blends frozen raspberries, peaches, banana, orange juice, and ginger. The protein in this smoothie comes from Greek yogurt, a food that one study found to decrease the amount of abdominal adipose tissue stored in the body when eaten consistently.
Get our recipe for Raspberry-Peach Swirled Smoothies.