Snacks are not an essential part of a meal plan; however, they certainly can be built into your day if necessary. Limiting snacks can be a good place to start if you're trying to cut calories or lose weight. Usually, people with diabetes may choose up to three snacks a day. Snacks should be inserted if you go too long in between meals or if you find that your blood sugar drops during a certain time every day.
When choosing snacks for diabetes, they should be high in fiber, protein, and/or healthy fats, which can help keep you feeling satisfied. Examples of such are hummus and baby carrots or edamame. Including non-starchy vegetables in your snack is a great way to add more fiber and more servings of vegetables. If you choose a carbohydrate food as a snack, like whole-grain crackers or fruit, pair it with a protein food or healthy fat like string cheese or nut butter to help reduce the carbohydrate's effect on your blood sugar.
Below are four snacks that are perfect for people with diabetes to help manage their blood sugar. Read on, and for more on how to eat healthy, don't miss 5 Best Fruits to Eat If You Have Diabetes, Says Dietitian.
The following recipes are excerpted from Diabetes Create Your Plate Meal Prep Cookbook by Toby Amidor, MS, RD, CDN, FAND. Photographs by Alison Lima. Used with permission of Robert Rose Books. All rights reserved.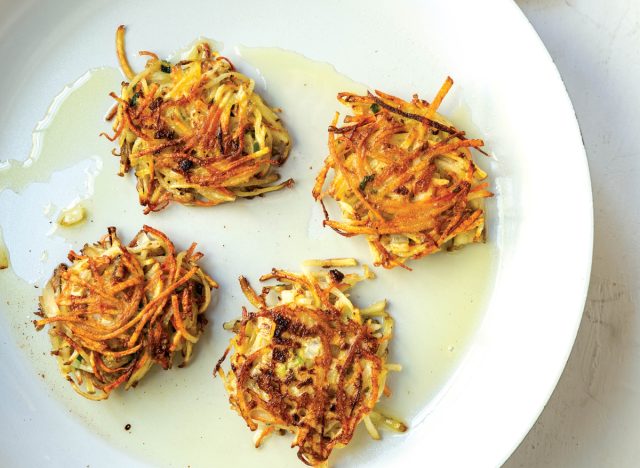 Croquettes are vegetable patties that are pan-fried in a small amount of oil. This version uses potatoes, carts, onion, and celery and are might tasty. Serve with a spoonful of nonfat plain Greek yogurt for dipping.
Get the recipe for Vegetable Croquettes.