With summer right around the corner, the time has come for outdoor picnics, barbecues, pool parties, and every other warm-weather activity imaginable. With the sun bearing down on you, nothing sounds quite as tempting as a cool lemonade, ice-cold beer, or even a classic iced tea. While all of these drinks capture the spirit of the season, they might not actually rehydrate you. A combination of caffeine, sugar, and alcohol can keep you from properly getting the water your body desperately needs, and certain drinks can actually make you feel that much more hydrated.
Even if you stay indoors, certain popular drinks can sap the water right out of your body. We caught up with a handful of dietitians to track down the very worst offenders out there. You might never see these beverages in the same light after discovering which drinks can make you feel that much more thirsty.
If you really want to stay hydrated, make sure to eat your water too. Grab some of the 23 Water-Rich, Hydrating Foods and keep your cool when relaxing outside or working out.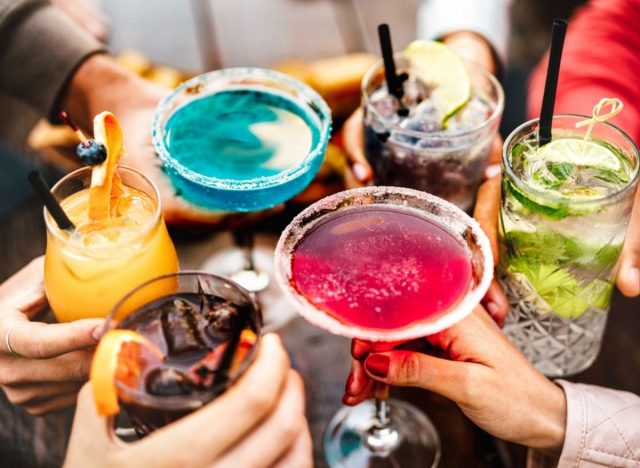 Everyone has heard that alcohol drains the water right out of your body, and as such, beer, wine, and liquor rank as some of the most dehydrating drinks out there.
"Alcohol is a diuretic," says Natalie Clair, RD, LD at Recovery Works Martinsville. "It causes the body to remove fluids from the blood much more quickly than other liquids. Alcohol interferes with the mechanism that regulates water in our bodies."
"In general, a shot of liquor, one beer, or a glass of wine will make your body excrete an extra 120 milliliters of urine in addition to your normal urine output," Clair continues. "For example, when you drink 200 milliliters of water, your body will excrete 200 milliliters of urine. However, when you consume 200 milliliters of beer, your body will excrete 320 milliliters of urine. If consuming alcohol, it is important to drink plenty of water to maintain proper hydration status."